In this continuing blog post series of getting the most out of your NextGen Office Patient Portal we're going to cover how the practice can print out a portal invitation and hand it to the patient. This is a simple, easy and effective way to engage with your patients and help drive patient adoption of this powerful tool.

Providing the Patient a Printed Portal Invitation:
In a previous blog post we covered how the practice can send an email invitation to a patient inviting them to log in to your portal and activate their account. There are two alternative methods of generating a printed portal invitation that can be generated while the patient is in the office and handed to them.
Option 1: From the Practice Management Side
Navigate to the patient's chart


Click "Generate Password" on the right hand side





The screen below will appear and you can click "Print Instructions"


The patient activates their portal account by navigating to YourHealthFile.com, clicking Activate your account here, and following the account activation instructions. After validating the temporary username and password, the patient can choose a permanent username and password.
Option 2: From the EHR
From the EHR, navigate to the patient's chart


Click the Administrative Tab


Click Enable Portal Access


This opens the YourHealthFile Account Activation Window
Here you can print or email the invitation to the patient or the guarantor. The option to select guarantor is only available if the patient and the guarantor are different. Another Patient is only available if the patient is an adult and the spouse is given access and is also a patient at the practice, or if it's a parent of several children who see the same provider. Other is used when the patient is a child and a parent (who is not a guarantor) is given access.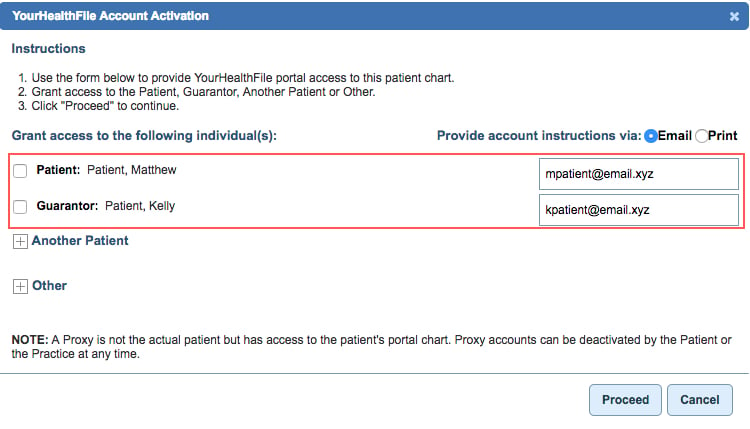 How to Register from a Printed Invitation - Video:
The NextGen Office EHR/PM Patient Portal is an extremely useful tool in driving patient engagement and reducing provider time required to document the patient visit. To learn more about how the NextGen Office cloud based EHR and Portal can help your practice please click the link below.
---