Founded by two primary care doctors in 1998, NextGen Office EMR Software was designed to solve the challenges that all providers face: how to quickly document the visit in the room so that at the end of the day, your work is done. It was designed by physicians to help other physicians deliver the best care to their patients, while not letting technology get in the way.







BEST IN KLAS 2022

NextGen Office has earned the No. 1 honor in the Small Practice PM/EMR segment (10 or fewer physicians) for the first time, up from 2nd place last year.



Cloud Based EHR
Talk, type or touch—patient charting at the point-of-care. Drive efficiency by utilizing our intuitive, modern interface.
Customizable for your specialty
Compatible on tablet/iPad
ONC 2015 Certified
A Mobile Friendly Solution
Using our cloud-based NextGen Office (formerly Meditouch), care facilities gain the fully integrated EHR, practice management and billing solution needed to keep up with increasing patient and practice demands. Tailored to the needs of any specialty-and fully functional on major tables, such as the iPad-our convenient, intuitive solution enables data sharing across systems and streamlines work flows. Our simple solution is easy for everyone to use- from office administrators, to clinicians.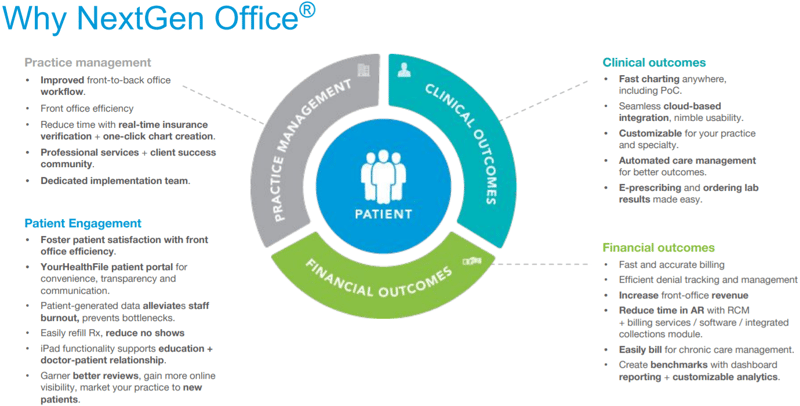 Perform a complete SOAP note from start to finish on your iPad or iPad mini, connect to the internet and chart from anywhere. With NextGen Office - wherever you are, your patient records are only a tap of the fingertip away.

Experienced Apple developer - NextGen Office is designed for fingertip touch on the iPad
Use Apple speech to text as a substitute for expensive transcription services.
Prescribe and view your schedule on the iPhone
Works on all platforms (mobile, tablets, laptops,desktops, Windows or Mac)
Faster Charting with NextGen Office
NextGen Office's iPad EHR was designed so you can chart on the go, from anywhere that has an internet connection. Unlike most of our competitors, NextGen Office is completely iPad Native. This enables you to use the full software without limitations straight in your iPad browser - no apps or installation necessary.
Charting at the point of care is the gold standard of EHRs. By using a mobile tablet such as the iPad, you can chart at the bedside or in the exam room. Never worry about a bulky computer screen coming between you and your patient - and have all of the charting completed by the time the patient leaves the exam room. Best of all, when its time for you to work at your desk, use NextGen Office on any computing device; PC or Apple, Windows or Mac, on either a desktop, laptop or mobile tablet. Flexibility is the key and with NextGen Office, you are always using the right device at the right time.
Practice Management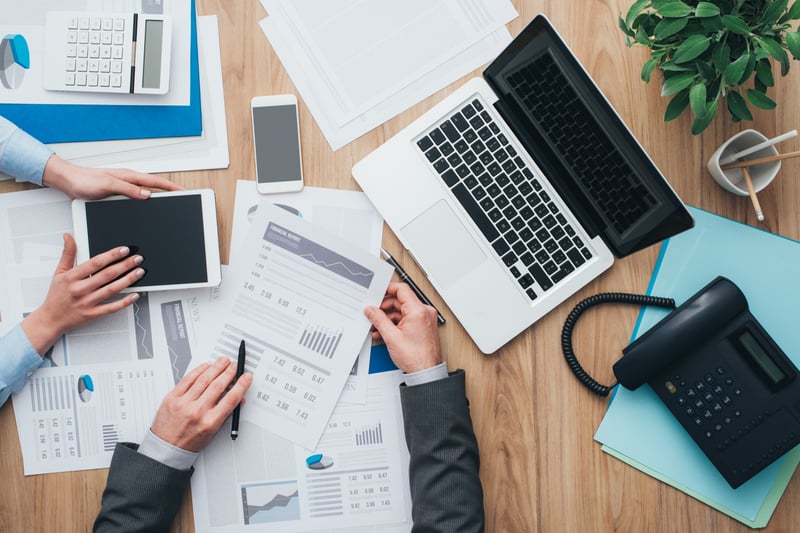 Verify patient eligibility in real time and access actionable insights to reduce rejections and denials.
Customize claims follow-up rules
Navigate between multiple accounts with our billing services solution
Drag and drop scheduling
Automated appointment reminders
Practice management benefits
Foster patient satisfaction through front-office efficiency.
Garner better online reviews and market your practice to new patients with our integrated patient portal.
Easily refill prescriptions, reduce no-shows, and fill cancellations.
Alleviate staff burnout by reducing manual duties, and prevent bottlenecks with patient-generated data
INTEGRATED TELEHEALTH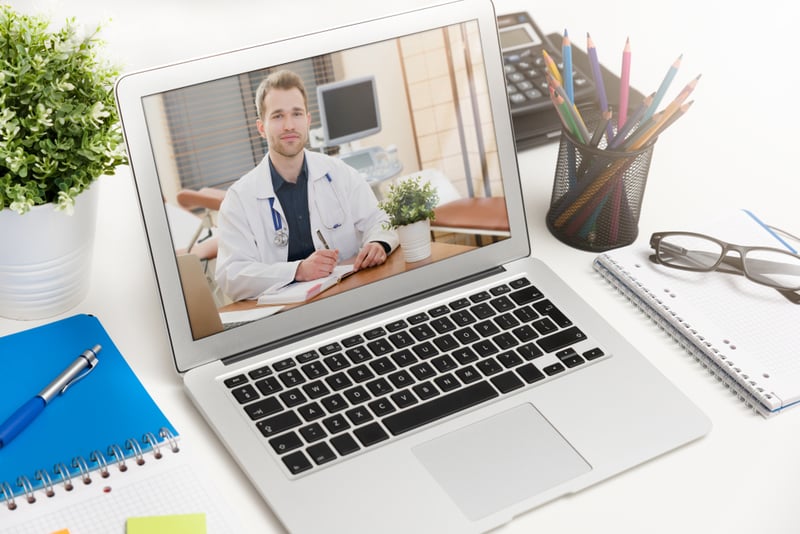 Discover The Features of a Top-Rated Telehealth Platform
Easily connect with patients on any device and better manage workflows.
ON-DEMAND INTEGRATED VISITS
Transition after-hours phone calls to integrated virtual visits, without needing access to your EHR or PM system.
IN-VISIT FEATURES
Share your screen, pass documents, chat with your patient, invite a third party or interpreter, all within the virtual visit.
CLINICAL ADMINISTRATOR WORKFLOW
Enable support staff to perform full administrative functions, such as insurance verification, pre-visit patient intake, or follow-up appointment scheduling
EASY PATIENT COMMUNICATION AND PAYMENTS
Customize patient email and text reminders, and collect patient payments through integrated payment processing partners.
Patient Portal
With "YourHealthFile" Patient Portal, your patients have private, secure access to their electronic Personal Health Record (PHR). Our online patient portal is completely integrated with NextGen Office EHR.
Enhance staff efficiency and increase patient engagement.
Online scheduling
Appointment reminders
Telehealth visits
Online payments
Medication refill requests
MACRA/MIPS
The new MACRA Dashboard and the Patient Scorecard tools make meeting MIPS a breeze. Our MACRA tools help eligible clinicians easily monitor their performance in the three MIPS Categories - Quality (previously PQRS), Promoting Interoperability (previously Meaningful Use/Advancing Care Information) and Improvement Activities.
Patient Scorecard
Our patient Scorecard provides a quick summary of the patient's portal engagement and an assessment of clinical quality measures. Users can quickly manage the measures population and perform the appropriate action to correct failing patients.
The Patient Scorecard displays on the EHR Dashboard's slide panel and is accessible from the same pages as Encounter Preview (Patient Tracker, Room Tracker and Open Encounters)
Promoting Interoperability And Quality Measures
NextGen Office is a 2015 Certified technology. The Promoting Interoperabilty category was previously known as Meaningful use and also known as Advancing Care Information in the first year of MIPS. These categories include several measures where scoring high can really help maximize your total MIPS score. All of the Promoting Interoperability measures and Quality Measures are identified on-screen and our goal is to make scoring high in both of these categories as easy as possible!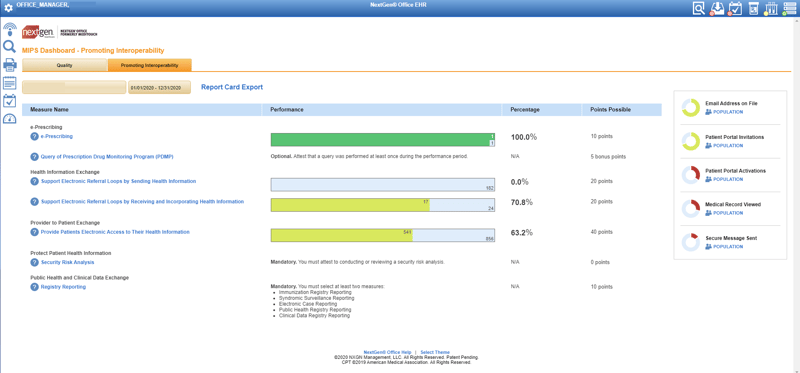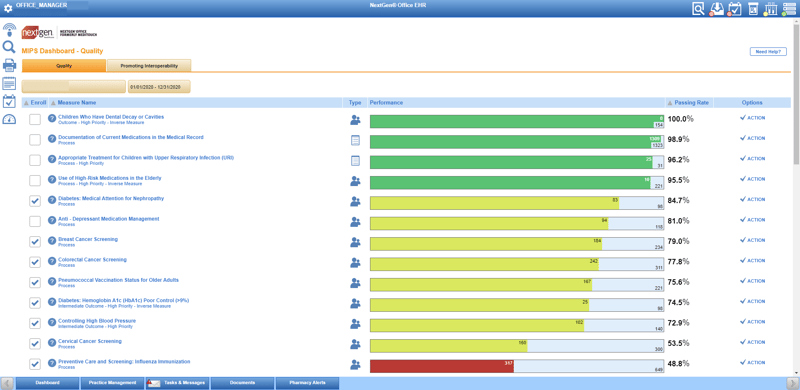 Practice Improvement Activities
Improvement Activities is also one of three MIPS performance categories. EHRs were not certified for Improvement Activities thus proof of compliance is the responsibility of the practice. To assist with this category, NextGen Office added new features to help users comply with the categories measure requirements.
NextGen Partners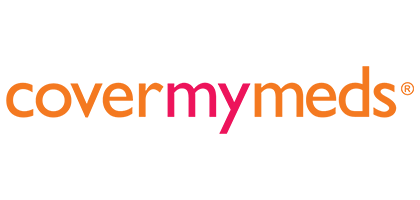 AVS Medical is pleased to announce that NextGen Office has partnered with
CoverMyMeds® to offer a free service to our providers to electronically process prior authorizations for medications. CoverMyMeds' electronic prior authorization solution streamlines the medication prior authorization (PA) process, connecting providers, pharmacists, and health plans to help improve time to therapy and decrease prescription abandonment.
Benefits of CoverMyMeds
Manage PA requests within the NextGen Office workflow
Works for any medication and all plans, including Medicare Part D and Medicaid
Free to providers and their staff

Doctible is NextGen Office's new partner for patient communication and retention. Doctible fills workflow gaps in the NextGen Offices solution and provides a great value add to our clients.
two way texting with patients and text and email appointment reminders
Individual one on one text message conversations
Mass texting to patients for alerts such as "Office is closed"
Text can come from office's land line phone number
More sophisticated templates and customization are available
Covers gaps in our current appointment reminder capabilities
after visit text or email for patients to rate service experience
Sends direct feedback to the office in regards to their service
Allows patients to add feedback to google reviews
Ensures quality service is being provided by the office
Increases the web presence of the office
New patient appointment requests
Allows new patients to request appointments electronically
Reduces phone calls to the office
Allows for after-hours appointment requests
Helps with patient acquisition
Integrated with website
website design
World Class website design
Mobile friendly design
Social Media Integration
Interested In NextGen Office?