Access interactive patient education content from right within your EHR. NextGen Office's integration with Elsevier provides suggested instructions based on diagnosis codes assigned to patients. To learn more about the benefits of Elsevier's patient education and to see how patient education works within the NextGen Office cloud based EMR works, please continue to read below.
For many years the NextGen Office EMR has had standard patient education content supplied by familydoctor.org part of the American Academy of Family Physicians. While this content is still in NextGen Office, we have now also partnered with Elsevier, the industry leader in patient healthcare information and analytics. Founded in 1880 Elsevier's mission is to "assist healthcare professionals advance science and improve health outcomes for the benefit of society"
Elsevier's patient education technology helps engage, educate and empower patients by providing evidence-based information you can trust, right from within the NextGen Office EHR, Plan module.
---
NextGen Office the Industry Leading - Cloud Based EMR
Click here to request a live demo
---
Benefits
Patient Education is suggested based on the diagnosis code, saving time searching for patient instructions
Send patient instructions to the patient's online portal (yourhealthfile.com)



Can be printed and given to the patient on check out
Instructions include: signs and symptoms, how to treat, diet, lifestyle, medications, and more
Available in English and Spanish
In the screenshot below you can see that in the provider has diagnosed the patient with COVID-19, as a result the suggested patient education for that diagnosis automatically presents. The provider can select this one, one of the other COVID related instructions, search for a different one or enter their own. (or any combination of the preceding options)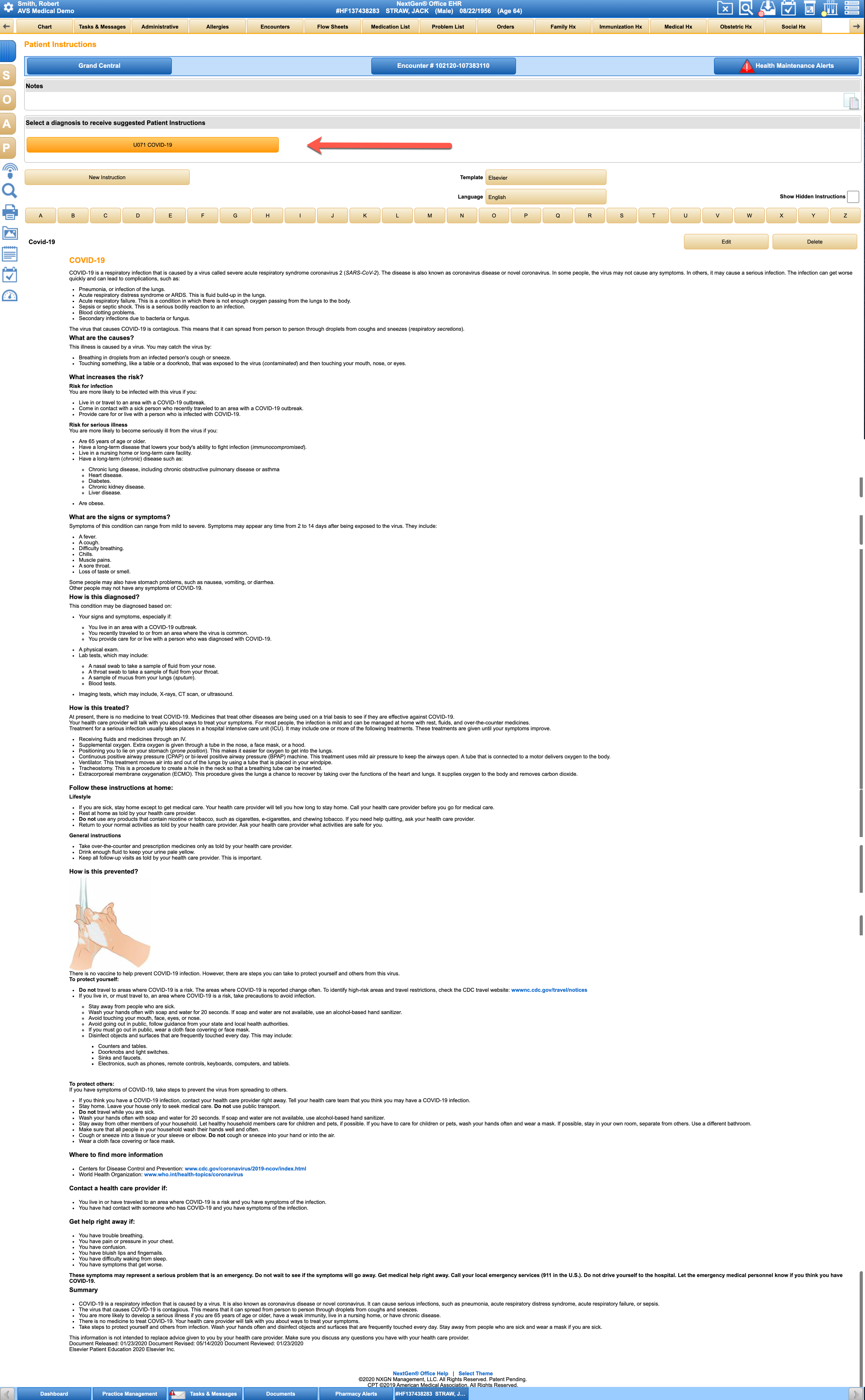 Watch the Patient Education Demonstration below!

Interested in NextGen Office?