There are some big, exciting changes happening to the Practice Partner based EHR's (Practice Partner, Medisoft Clinical and Lytec MD) over the coming week that we wanted you to be aware of.
In early 2019 Practice Partner version 11.2 will be released. 11.2 is the 2015 Edition Health IT Module Certification and will include many new enhancements and updates.
Two of the biggest changes will be a completely redesigned ePrescribing and medication management module and a completely new web based patient portal called UpDox.
This post is all about the new Enterprise ePrescribing module. A later post will focus on the new patient portal. And as we get closer to the release of the new Enterprise ePrescribing module AVS Medical will be hosting a series of live webinars and training sessions on the new eRX functionality.
Before we talk about what's in the new eRX module it's important to talk about why the changes are being made. In addition to a more modern look and feel there are some significant regulatory changes coming that mandate the enhancements:
There are mandatory changes to the current ePrescribing network that go into effect January 1, 2020 that affect all EHRs and all EHR vendors. The new module will comply with this SCRIPT 2017 format.



CMS Final MIPS Rule requires changes

Structured SIGS

Multipole ingredients, compound prescriptions

9 new message types

Many more changes



Prescription Drug Monitoring Programs - PDMP

Many practices are interested in integrating with their states PDMP programs. This integration will be coming in 2019 as well.
What's New:
Enterprise RX will provide an entirely new look and feel to the ePrescribing process for both scheduled and non-scheduled drugs. The list of the major changes along with some screen shots is below.
Record RX: New functionality to document outside meds the patient has been prescribed. Quickly add them to your Favorites list for future use






Changes to the Medication Grid: The NDC number column is no longer displayed, Size, take form, frequency and Unit, Refill, Sign, Co Sign fields have all been removed




Send RX Button on the Medication Grid: Allows you to send a new script directly from the Medication Grid or save it to the new ERX Worklist to be sent later.





New ERX Worklist: Replaces the current Messages section for sending, renewing and refilling medications
New Allergy Management Window: Add new codified allergies by searching or enter free text allergies






New Pharmacy Management Workflows:

Live connection to SureScripts

Most up to date list of pharmacies are always available

Free text add local pharmacies

No more quarterly pharmacy downloads

New Pharmacy Search
CoverMyMeds Integration: will be part of the new Enterprise ePrescribing module

Real time messaging to providers about patient benefit information during the prescribing process

Electronic Prior Authorization workflows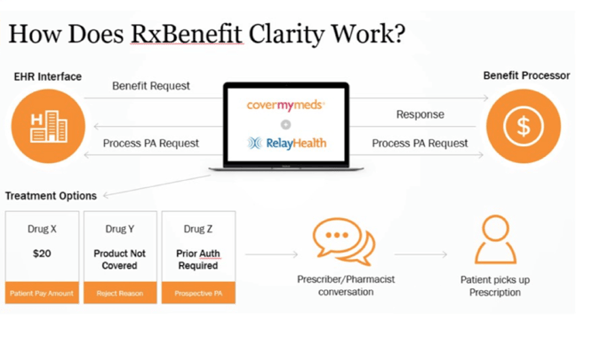 Summary: This is a short overview of some of the new enhancements found in the Practice Partner 11.2 Enterprise RX module. More detailed information will be forthcoming as we get closer to the release date and as mentioned earlier AVS Medical will be doing live training webinars once the new module is available.
Please subscribe to our blog post to receive notifications as new features are released and announcements regarding training dates.
Disclaimer: The new Enterprise eRX functionality is not yet available, the features and functions presented here are subject to change. Some features may not be available at the initial release of the new module
Want to learn more about the new features? Contact us through our Website below!