In 2019, Medicare introduced reimbursement for Remote Patient Monitoring or RPM, often making it no cost to seniors with at least one chronic condition1. Even during "normal times," going to a medical office or clinic for seniors has been logistically challenging, as approximately half have transportation barriers to get to their doctor. With the COVID-19 pandemic, going to the office can be life-threatening, as it heightens their risk of infection.
The Centers for Medicare and Medicaid Services (CMS) has taken steps to make it easier for practices to provide this type of care to their patients by introducing new CPT codes and removing barriers to entry. Among these are the Remote Physiologic Monitoring CPT codes for care services that help improve outcomes of Medicare patients with chronic conditions while providing additional revenue streams for medical practices.
In addition to these pandemic driven CMS decisions, they have made other recent notable decisions2. The two most hotly anticipated changes for providers include:
The decision to allow RPM to be furnished "incident to" under general supervision.
The addition of CPT Code 99458: a new add-on code for patients who receive an additional 20 minutes of RPM services in a given month (i.e., 40 minutes of RPM service, rather than the previously allowed 20 minutes).
These changes have expanded how healthcare providers can treat their patients using RPM. They can now treat their chronic care patients not only using traditional CCM codes, but they can provide a wider array of care options with RPM and spend more time on that care with the addition of CPT 99458.
CMS also expanded who is empowered to provide RPM care to patients, enabling practice nurses and staff to take on the process of monitoring patients' data and escalating that information if a patient's health information indicates a need for intervention.
Typically, physicians are the highest-paid employees in a practice, so enabling other staff members to perform RPM tasks increases the return on investment in the program and frees doctors to focus on making the best healthcare decisions for their patients.
Looking for a Remote Patient Monitoring solution for your practice? Learn more here.
Add these RPM CPT codes to increase revenue for your practice
We've outlined the specific codes for RPM and what they mean for your practice on a code by code basis, based on the national average.
RPM Codes
Adding remote patient monitoring could add $198.49/patient per month to your practice.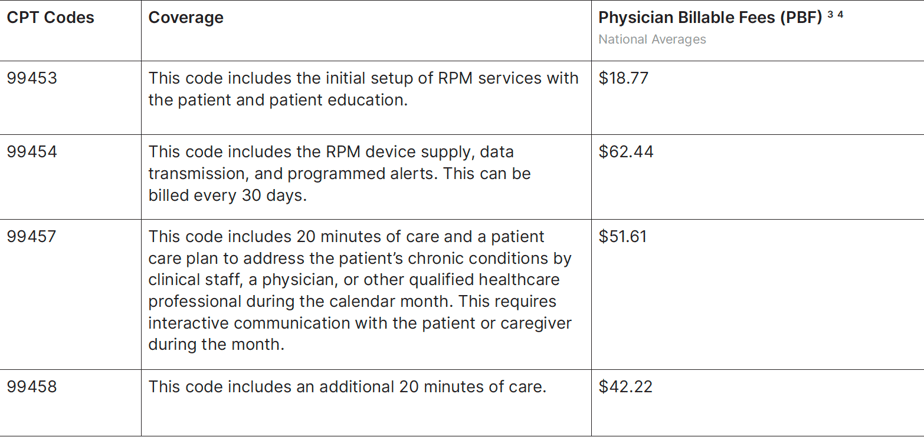 The financial impact of adding RPM for your practice
When a patient is initially set up for remote patient monitoring, you will be able to bill once for CPT 99453. After the initial setup, you will be able to provide remote patient monitoring services to your patients and bill monthly using CPT Codes 99454, 99457, and 99458. CPT 99454 covers RPM device supply, data transmission, and programmed alerts and can be billed every 30 days. If you only provide 20 minutes of RPM care per month using CPT 99457 and 99454, you can earn $114.05 per patient per month. For each additional 20 minutes you spend performing remote patient monitoring services for a patient (up to two more times), you may also bill for CPT 99458 (up to two times). If you provide 60 minutes of RPM care per month using CPT 99457, 99458 and 99454, you can earn a total of $198.49 per patient per month.
Annual Revenue Potential Estimates
Other factors to consider
Your practice will likely utilize a portion of this amount to cover the cost of the RPM devices and monthly service fee for an RPM solution provider of your choice.
There are various companies purporting to support your practice's RPM needs with different financial structure or requirements. Some of these companies will require you to incur setup fees and pay device costs upfront which adds risk to implementing an RPM program for your practice and may cut into the profitability of your practice. It's imperative that you seek out an RPM provider that doesn't require you to pay any upfront devices costs or setup fees, like 100Plus, so you can start seeing a profit after your first month providing RPM services to your patients.
Conclusion
Remote patient monitoring provides patient health data in real-time and patient medical history and trends for healthcare provides to better guide patients health decisions and lead to improved outcomes for Medicare patients. In addition, RPM adds an incremental revenue stream to healthcare providers and their practices, making practices who adopt RPM as an offering for their patients, more financially resilient — less vulnerable to the macro-impact of fluctuations in the U.S. economy and global events like the COVID-19 pandemic.
---
AVS Medical has partnered with 100Plus, the leading Remote Patient Monitoring provider in the country. With no upfront cost to you they deliver ready to use RPM devices to your patients that automatically stream data to your portal. Their "white glove concierge" service does it all.
1 Subject to co-payment. 2 Press release CMS Takes Action to Modernize Medicare Home Health. (n.d.). Retrieved August 28, 2020, from https://www.cms.gov/newsroom/pressreleases/ cms-takes-action-modernize-medicare-home-health-0, 3 2020 Medicare Physician Fee Schedule Final Rule – Care Management. (n.d.). Retrieved September 01, 2020, from https://www.pyapc.com/insights/2020- medicare-physician-fee-schedule-final-rule-care-management/ 4 License for Use of Current Procedural Terminology, Fourth Edition ("CPT®"). (n.d.). Retrieved September 01, 2020, from https://www.cms.gov/apps/physicianfee- schedule/search/search-criteria.aspx