Helping Your Practice Navigate the Complete Revenue Lifecycle
Every practice's revenue cycle is the same. It starts when a patient sets an appointment and it ends when the practice receives payment. It sounds simple enough, but the reality is there are lots of opportunities along the way where simple mistakes can cost your practice money.
At ARIA HEALTH SERVICES, we don't simply process claims. That's the easy part. Instead, we help our customers navigate the entire revenue lifecycle with our expertise understanding payer billing rules, audits, recoupments, appeals and denials, and much more.
Why is this important?
Your revenue cycle is like a production line. Each step has to be perfectly executed so the next one can be. One little hiccup and the production line (your revenue) comes to a screeching halt.
By leveraging best practices developed over our 20+ years in business, our team of industry experts, and our proprietary technology, ARIA RCM ensure your billing lifecycle is set up for maximum revenue collection.

Proprietary Account Receivables Technology Improves Operational Efficiency
ARIA RCM services are paired with our proprietary Account Receivables workflow technology, allowing us to deliver the best results at a lower cost to you.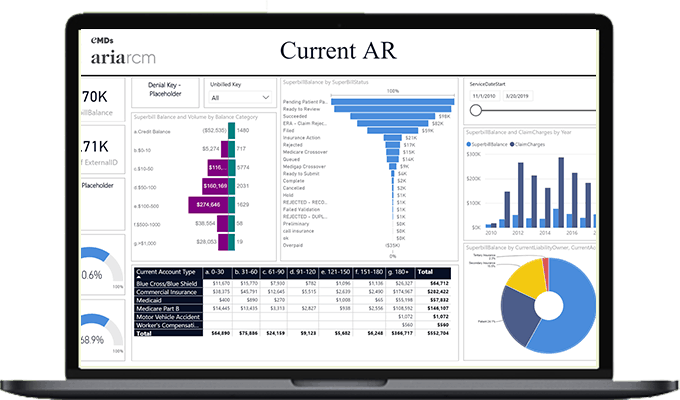 Dedicated Team of Industry Experts to Manage Your Revenue
Your revenue cycle engagement with ARIA RCM is more than just a transaction for us. Upon implementation, you are assigned a team of regulatory and payment experts to work your billing cycle from claims generation, to payment posting, to insurance collections. We also provide patient inquiry services including a dedicated toll free number and experienced bi-lingual (English/Spanish) representatives to answer patient payment questions.
Your dedicated Account Executive will conduct monthly financial reviews that examine performance against key performance indicators.
View Our Best Practices White Paper
Tailored Solutions Aligned to Your Business Goals
Our 20+ years experience working with healthcare organizations of all sizes gives us the expertise to craft a solution that fits your needs. ARIA RCM can leverage your technology, or you can leverage ours. You pick the path of minimal disruption.
We believe in full transparency. We use open systems, and give you access to detailed reporting, meaning you remain in full control of your business.
Plus, our compensation model means we are 100% aligned to collecting every dollar you've earned. We get paid when you get paid.