CMS has just released the final rule for MIPS 2019 - Here's what Cloud Based EHR users need to know!
MORE MIPS ELIGIBLE CLINICIANS
CMS has added the following types of providers as MIPS eligible providers In addition to MD/DO/DPM/DC/PA/NP
Clinical Psychologists

Physical Therapists

Qualified Audiologists

Occupational Therapists

Qualified Speech Language Pathologists

Registered Dietitian or nutritional professionals




HIGHER PAYMENT ADJUSTMENTS
Payment Adjustment Range from a -7% up to a +7% !
MORE LOW VOLUME EXCLUSIONS
In 2019 CMS has added a 3rd parameter to qualify for a low volume exclusion. In order to be excluded from MIPS in 2019 a Cloud Based EHR user would have to meet one of the following criteria:
Bill less than $90,000 in Part B covered professional services OR

Care for less than 200 beneficiaries OR

Deliver less than 200 covered professional services under the 2019 PFS (physician fee schedule) -

This is the new low volume exclusion for 2019
PERFORMANCE CATEGORY WEIGHTS MODIFIED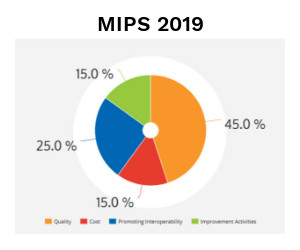 Quality category reduced from 50% of your MIPS score to 45%

Cost category increased to 15%

Promoting Interoperability (used to be known as Advancing Care) is 25%

Practice Improvement Activity is 15%
CHANGES TO THE QUALITY MEASURES
8 new Quality measures were added - New

26 measures were deleted - New

A list of measures can be found here

You'll still report on a total of 6 measures

One measure had to be an Outcome or High Priority measure

You'll report Quality data for the entire 12 month period

Report on at least 60% of the eligible cases for the 12 months
CHANGES TO PROMOTING INTEROPERABILITY
Your EHR must be a 2015 Edition Certified Electronic Health Record Technology (CEHRT)

Minimum 90 day reporting period - same as last year

The Base and Performance are replaced by a new single scoring methodology for Performance only

4 objectives that must be met:

ePrescribing

Health Information Exchange

Provider to Patient Exchange

Public Health and Clinical Data Exchange

Two new measures have been added for ePrescribing

Query for Prescription Drug Monitoring Program (PDMP)

Verify Opioid Treatment Agreement as optional

Security Risk Analysis is required but without points
NEW! - MIPS OPT IN POLICY
A new option has been added for MIPS 2019- the ability for a provider to "opt-in".
Providers who meet 1 or 2 but not all 3 criteria can choose to opt-in to MIPS 2019

Can earn the same positive (or negative) payment adjustment

Allows them to prepare for future required MIPS participation
HELP FOR SMALL PRACTICES
Practices with 15 or fewer providers will receive a practice bonus
Included as part of the Quality score instead of stand alone

Bonus is increased by 6 points
To read the entire Final Rule for 2019 click here
To read the CMS Executive Summary of the final rule click here
2019 brings new challenges and changes for Cloud Based EHR users. There are new and different requirements requiring changes to your software, and your workflow. Most importantly the bonus payment and or penalty payments have increased substantially.
During the course of the year AVS Medical will continue to provide you with timely and informative information on how you can best use a Cloud Based EHR to succeed with MIPS in 2019
Interested in a MIPS Ready Cloud Based EHR?